SANTA FE ASSOCIATES INTERNATIONAL becomes a full member in the FORUM OF FIRMS IFAC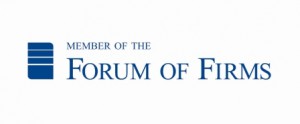 Formally established in 2002, the Forum of Firms (FOF) is an association of international networks of accounting firms that perform transnational audits. Forum members are committed to respecting and promoting the consistent application of high quality auditing practices worldwide, as detailed in the FOF Constitution.
Membership in the Forum is open to networks and companies that have an interest in conducting transnational audits; promoting consistent application of high quality auditing practices and international standards; supporting the convergence of national audit standards with International Standards on Auditing (ISA); and agree to comply with the obligations of membership of the Forum.
With the addition of SANTA FE ASSOCIATES INTERNATIONAL the list has already 27 international audit networks belonging to the Forum of Firms.
SANTA FE INTERNATIONAL ASSOCIATES is a network of firms engaged in providing professional services to companies in the field of:
Strategic Analysis and Management
Corporate Legal Consultancy
Human Resources
Tax Consulting
Interaction and relationship with the market space, with its competitors, with governments and with customers/li>
Actuarial Consultancy
IT
Audit and Accounting
With our Business Action® proprietary methodology we are allowed to provide our customers with solutions that will work not only today but also in the future. We have wide experience in accounting, economics, corporate finance, political science, management and law.
Present in over 60 countries, with more than 150 offices worldwide SFAI is represented in Spain by one of the leading consulting firms in Catalonia and Spain the JDA Group and now the founder of the SFAI network offices around the country.